Updated 8/28/2002
VH1 Salutes Beach Boys On Sept 1
VH1 Classic Presents The Beach Boys End of Summer Marathon on Sunday,
September 1, 7:00-11:00 p.m. ET
Listening Party: "Classics: Selected by Brian Wilson" - 7:00-8:00 p.m. ET
VH1 Classic's Listening Parties allow music fans to tune in to hear a new release in its entirety - often before it hits the street. As part of its Beach Boys End of
Summer Marathon, VH1 Classic will present "Classics: Selected by Brian Wilson,"
a compilation released last month of the Beach Boys' best chosen by the band's
leader/pop visionary Brian Wilson.
"Endless Harmony" - 8:00 - 10:00 p.m. ET
This two-hour documentary special about The Beach Boys features interviews with Brian Wilson, Mike Love, Bruce Johnston and archival interviews with the late Carl and Dennis Wilson.
Beach Boys Videos - 10:00 - 11:00 p.m. ET
From the vaults, timeless Beach Boys songs taken from live television performances and early promotional films.
Listening Party "Pet Sounds Live" - 11:00 p.m. - 12 midnight ET
VH1 Classic fans are invited to a listening party for "Pet Sounds Live," a remarkable live performance of Brian Wilson's seminal rock music classic during his first solo tour of Europe. Recorded over four nights at London's Royal Festival Hall, Wilson and his band performed the entire album, which has been deemed by both critics and fans as one of the greatest pop albums of all time.
In addition, VH1 Classic will run segments from its recent interview with Brian
Wilson. VH1.com has a wealth of information on the band at:
http://www.vh1.com/artists/az/beach-boys/artist.jhtml

Updated 8/17/2002
BRIAN WILSON & Others Unite For Timothy White Benefits
"Music to My Ears: In Celebration of Timothy White" will take place Oct. 7
at Boston's FleetCenter with Sting,Don Henley,Sheryl Crow, John Mellencamp, and James Taylor; and Oct. 8 at New York's Madison Square Garden with Sting, Henley, Crow,
Mellencamp,Jimmy Buffet, and Brian Wilson, according to Billboard. Additional artists may be added. The concerts benefit White's family.



Updated 8/14/2002
Members of the Imagination Beach Boys/Brian Wilson mailing list wish to invite everyone who is planning to attend Brian's concert in Chicago at the House Of Blues tonight to a pre concert get together.There will be a meeting in front of the HOB "will call" window at 6:30PM and then the group will head over to the restaurant for a pre concert dinner. Those of you interested in meeting up can just ask for Chip.
=========================================
Apparently there has been a date change for Brian's upcoming appearance on Late Night With David Letterman. The show is now scheduled to be taped on August 22 for broadcast on August 23. It appears as though Brian will be sitting in with the Letterman band throughout the show.
Thanks to Junkstar

Updated 7/30/2002
The latest edition of "EAR CANDY" an internet only music magazine features several Beach Boys related articles. Ear Candy can be viewed by clicking this link:
EAR CANDY MAGAZINE


Updated 7/15/2002
BEACH BOYS TO GIVE FREE CONCERT
Beach Boys and Jackie 'The Jokeman' Martling
Thursday August 1st 7:30pm Rain or Shine
Asser Levy Park West 5th and Surf Ave, in Brooklyn, NY (opposite the Coney Island
Aquarium) Admission Free Info: 718-469-1912



Updated 7/11/2002
Brian and band will be performing in Honolulu Hawaii at the Honolulu Marathon on Dec 6, 2002 at the Wakiki Shell. The concert will also be a part of an all you can eat luau, but apparently you must enter the marathon in order to buy tickets for the combination concert/luau.
Honolulu Marathon



Updated 6/29/2002
The Beach Boys (Mike Love & Bruce Johnston) are scheduled to appear on
Good Morning America on ABC at 7AM Eastern US Time on July 5, 2002


Updated 6/27/2002
Billboard Editor In Chief Timothy White Dies
Timothy White, Billboard's editor in chief and a giant of music
journalism, died suddenly today in New York. He was 50.
White apparently suffered a heart attack after returning to the
Billboard offices from lunch with a long-time friend. He was unable to
be revived after being rushed to St. Vincent's Hospital, where he was
pronounced dead. White leaves behind his wife, Judy, and their 10-year-
old twin sons, Christopher and Alexander.
White is the author of the Beach Boys bio, "The Nearest Faraway Place".
===================================
"Castle Rock Entertainment has hired Bryan Goluboff to pen a screenplay for the
untitled Brian Wilson project, which will explore the life story of the Beach Boys
songwriter. "We hope to capture Brian's life struggle and the underpinnings of his
genius, as well as celebrate the extraordinary musical contribution this Mozart from
Hawthorne, California has given to the world," said Castle Rock co-founder Rob
(Meat Head) Reiner." (From Variety)
===================================
The E Channel has done an episode of their E! True Hollywood Story
about the Beach Boys which will air on July 7 at 8PM Eastern US Time. Don't
expect much from this as the E channel basically thrives off sensationalism, so
odds are this will be more about the lifestyles the "Boys" have chosen to live as
opposed to the wonderful music they created.
Updated 6/22/2002



You can here a 30 second clip of the newly recorded version of California Feeling by Brian Wilson that will soon appear on the upcoming "California Feeling- The Best Of The Beach Boys" by clicking here.
=====================================
Updated 6/11/2002
Billboard.com has reviews of Brian Wilson's Pet Sounds Live and his
concert appearance at the Royal Festival Hall
=====================================
Updated 6/5/2002
It appears that the Japanese version of Pet Sounds Live, which will feature the bonus track "Meant For You/Friends" will not be available until July 31
====================================
Brian In Brighton -Setlist
Set 1
Wonderful/Cabinessence
Sail on Sailor
Meant For You/Friends
Dance Dance Dance
California Girls
Don't Worry Baby
Warmth Of The Sun
Good Timin'
Forever
Your Imagination
The Night Was So Young
Busy doin' Nothin'
Darlin'
Melt Away
Our Prayer / H&V (Cantina)
Surf's Up
Marcella
Do It Again
Set 2
Entire Pet Sounds Album
Good Vibrations
Help Me Rhonda
Barbara Ann
Fun Fun Fun
Surfer Girl
Love And Mercy
========================================
Updated 6/3/2002
Brian Wilson's performance at the Queen's "Party At The Palace" included California Girls, Warmth of The Sun (with Eric Clapton), God Only Knows (with the Corrs) and Good Vibrations.
==================================================
Updated 5/31/2002
Queen's Party At The Palace To Be Webcast Live!
The Party at the Palace will be webcast live on June 3 at 7:30PM GMT. (2:30PM Eastern US Time) This is the concert featuring Brian Wilson's performance. Brian will be performing God Only Knows with members of the Corrs.
Here's the link: http://www.bbc.co.uk/musiclive/party.shtml



Updated 5/30/2002
Making God Smile -New Brian Wilson Tribute CD Set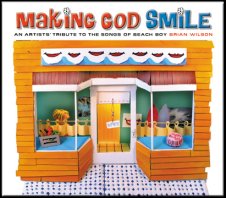 Making God Smile, a musical tribute to the songs of Brian Wilson,
will be released in stores on July 30 by Silent Planet Records (distributed by
Redeye). A limited-edition double CD version, with 11 additional tracks, can
be ordered starting on June 1 only on the Internet at
Silent Planet Records. The double CD will ship on June 20, the date
of Brian's 60th birthday. The CD package, containing all-new renditions of
some of the Beach Boys' and Brian Wilson's best-known music, also includes
a 24-page booklet. The booklet will include write-ups from each of the
artists, commenting on the song they chose the cover, and on Brian's
influence.
===========================================
BRIAN WILSON TO HEADLINE 2002 CARL WILSON WALK
The 5th Annual Carl Wilson Walk Against Cancer and Benefit Concert will be held in Los Angeles, October 5 and 6, 2002. Brian Wilson will be headlining at Royce Hall on the UCLA campus, October 6, 2002. The benefit concert honors brother, Carl Wilson, who lost his battle with cancer in 1998.
The Carl Wilson Foundation organizes a yearly walk, beach party and concert to raise money and awareness for cancer research and assistance to cancer
patients with the goal of improving their quality of life.
Please visit The Carl Wilson Foundation website at
http://www.carlwilsonfoundation.org for more information SOON.



Updated 5/26/2002
The Queen's Party At The Palace On VH1
VH1 will be showing at least a portion of the Queen's Jubilee "Party At The Palace", in which Brian Wilson will be performing,
on June 9 at 9PM , Eastern USA Time. No word on whether each artist who
performs at the concert will be included in the VH1 special.



Updated 5/12/2002
ROXY SETLISTS
Here are the setlists from last nights Brian Wilson concerts at the Roxy Theatre

Wonderful/Cabinessence,
Sail on Sailor,
Warmth of the Sun,
CA Girls,
The night was so young,
Dance dance dance,
You're so good to me,
Forever,
Good Timin',
Meant for you,
Friends,
Busy doin' nothing (with an awesome live fade),
Wouldn't it be nice,
You still believe in me,
Waiting for the day,
God Only Knows,
Sloop John B,
Hang Onto Your Ego,
Pet Sounds,
I Just wasn't made for these times,
Our Prayer,
Heroes and Villians (cantina version),
Surf's Up,
Marcella (the bands fav to play),
Good Vibrations,
Help Me Rhonda,
Do It Again
Surfin USA.
Here's set 2.
Wonderful/Cabinessence,
Sail On Sailor,
Warmth of the sun,
CA Girls ,
The Night was so young,
Dance dance dance,
You're so good to me,
Forever,
Good Timin',
Meant For You,
Friends,
Busy Doin' Nothin',
Wouldn't it be nice,
You still believe in me,
I'm waiting for the day,
God Only Knows,
Sloop John B,
Hang Onto your Ego,
Pet Sounds,
I Just Wasn't made for these times,
Our Prayer,
heroes and Villians (cantina version complete with laughter),
Surf's Up,
Marcella
Good Vibrations,
I Get Around,
Barbara Ann,
Do It Again,
Surfin' USA
Love and Mercy.
Thanks to Richard Evans



Updated 5/5/2002
Beach Boys Need Your Help
Rollingstone.com is running a little poll about who the best "boys" are and the Beach Boys are currently running a distant second behind the Beastie Boys, but are ahead of the Backstreet Boys and Pet Shop Boys. Cast your vote(s) at
Rollingstone.com . You are supposed to vote just once, but you can vote once with each different browser you use.


Updated 5/4/2002
Pet Sounds Live Press Release - New Worldwide Release Date
Sanctuary Records Announces the Release of 'Brian Wilson Presents Pet Sounds' Live' CD June 11 in U.S., June 3 Rest of World
CD is First Ever to Capture Wilson's Entire Masterpiece Live
LOS ANGELES, May 3 /PRNewswire/ -- For the first time, Brian Wilson's masterpiece "Pet Sounds" has been captured live for release on CD. In June, Sanctuary Records will release the only complete live recording of one of the most respected works in pop music, "Brian Wilson Presents 'Pet Sounds' Live."
The original "Pet Sounds" was first released in 1966. Since that time, its impact on music and on other artists has been unparalleled. In 1995, a panel of some of the most successful musicians, songwriters and producers in rock music was assembled by Britain's MOJO Magazine to determine the "greatest album ever made." When the balloting was completed, the winner was "Pet Sounds."(1) Eric Clapton was quoted as saying that he, Ginger and Jack (Cream) were "knocked out" by what they had heard, while Paul McCartney referred to "God Only Knows" as the greatest song ever written.
"Pet Sounds" creator Brian Wilson earlier this year toured England and Europe for the first time as a solo artist. He and his band played a dazzling two and a half hour set that included highlights from his Beach Boys and solo works, as well as a breathtaking performance of "Pet Sounds" in its entirety.
The four sold out shows at London's prestigious Royal Festival Hall were recorded and the best renditions from each night were selected for the first live CD release, "Brian Wilson Presents 'Pet Sounds' Live." The concerts captured for this new CD received extraordinary reviews. Dorian Lynskey, (Q Mazazine) stated, "The 'Pet Sounds' half of the show is exactly as you might hope: a faultless rendition...It's a transcendent, overwhelming experience...it seems is the closest to perfection a night of music can come." Andy Capper (NME) wrote, "...this concert is the most amazing emotionally affecting musical event that NME...and pretty much everyone else...has ever seen...it's like a personal audience with the Lord of the Universe...it also represents the most successful rock n roll rehabilitation of all time...a week later we're all still buzzing."
Among those who attended the Royal Festival Hall performances were Roger Daltrey, Eric Clapton, Elvis Costello, Richard Ashcroft, James Dean Bradfield, The Chemical Brothers, Ray Davies, David Gilmour, Supergrass, Teenage Fan Club, Glenn Tilbrook, Karl Wallinger, and Paul Weller among others. Roger Daltrey commented, "After seeing Brian Wilson playing 'Pet Sounds' live, I immediately went home and put on the Beach Boys' record. I've got to admit, the record wasn't as good. Brian on his own gives it a whole new depth of sensitivity."
Wilson's band members who are heard on "Brian Wilson Presents 'Pet Sounds' Live" include the Los Angeles-based Wondermints Darian Sahanaja (vibes, keyboards, vocals), Mike D'Amico (percussion, vocals), Probyn Gregory (theramin, French horn, trumpet, vocals), and Nick Walusko (guitar, vocals), former Beach Boy Jeff Foskett (guitar, vocals), Poi Dog Pondering's Paul Mertens (saxophone, flute, vocals), and Bob Lizik (bass, vocals), Scott Bennett (keyboards, percussion, vocals), Jim Hines (drums, vocals) and Taylor Mills (vocals).
(1) "Pet Sounds" 1991 Liner Notes Capitol Records Reissue, notes by Brad Elliott.



Updated 5/4/2002
Solomon Burke has recorded the previously unreleased Beach Boys track "Soul Searching" and will include it on his upcoming cd, "Don't Give Up On Me", due for release on
July 23
Thanks to Tango



Updated 4/24/2002
BEACH BOYS LAWSUIT THROWN OUT
LOS ANGELES, California (AP) -- A Los Angeles judge has thrown out a
lawsuit by original Beach Boys member Al Jardine, who claims two of his
ex-bandmates excluded him from the surf rock group.
The judge says a federal court has already dismissed similar
accusations by Jardine against Beach Boys members Brian Wilson and Mike
Love. Jardine also alleges he was left
out of a series of concerts last year. He is seeking $4 million and
other damages.
Although the suit was rejected, Jardine was allowed to amend and
re-file the complaint. Attorneys for the musician say they will try to
distinguish the lawsuit from the one in federal court.
A hearing is scheduled for May 30th.


Updated 4/23/2002
Both "Pet Sounds Live" and "California Feeling" are scheduled to be released in the US. Pet Sounds Live will be issued on June 11 on the Sanctuary Label. As of now, the release date has not yet been set for California Feeling.
The Japanese version of Pet Sounds Live, scheduled for May 27th release, will include a bonus track Meant For You/Friends.


Updated 4/18/2002
MORE NEW RELEASES COMING
Pet Sounds Live, a new live recording from Brian Wilson is scheduled for release in Great Britain on May 27 on the Sanctuary label. No word on a US release.
===========================
A new cd by Nancy Sinatra called California Girl, features a guest appearance by Brian Wilson. The cd , available now in Canada, is scheduled for US release on April 30. Brian appears on Nancy's remake of the Beach Boys classic, California Girls.



Updated 4/11/2002
There will be a "new" cd release in Japan, scheduled for June 19, called "California Feeling - Best Of The Beach Boys Selected by Brian Wilson". Besides a collection of Beach Boys hits, this collection will also include a newly recorded version of the "legendary" unreleased track, California Feeling. Also scheduled for CD release are "Beach Boys Instrumentals", "Carl Wilson Sings With The Beach Boys and "The Many Moods Of Murry Wilson. No word as to whether these cd's will be released in the US.
For info on these discs from HMV Japan- Click here
Thanks to Tango



Updated 4/5/2002
You can hear a reunion of Brian Wilson and Blondie Chaplin on a new cd by Late Night With David Letterman drummer Anton Fig called Figments. Brian and Blondie perform on the track called "Hand On My Shoulder" . Chaplin also appears on two other tracks, 'Home" and Utopia".
You can hear a brief clip of