IMAGINATION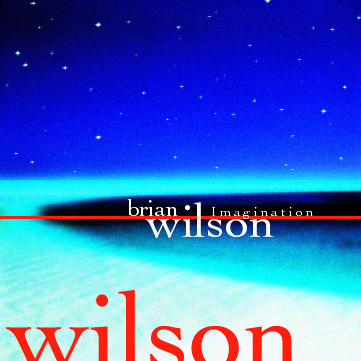 THE WEB SITE FOR BRIAN WILSON AND THE BEACH BOYS
Bookmark this URL http://brianwilson.cjb.net
WHENEVER I FIND NEWS FROM ANOTHER SITE OR INDIVIDUAL AS YOU SEE BELOW, I ALWAYS GIVE CREDIT TO THAT PERSON OR SITE
FOR THOSE WHO USE NEWS POSTED HERE ON THEIR OWN SITES,I WOULD APPRECIATE IT IF YOU WOULD PLEASE GIVE CREDIT TO: Imagination- A Web site for Brian Wilson and the Beach Boys - URL http://brianwilson.cjb.net

Theliner notes for the Net Sounds 2 fans tribute cd are here! Now hear clips of selected tracks in Real Audio!
Read about what everyone is talking about here!
---
BEACH BOYS ALBUM COVER SCREEN SAVER
---
Now you can chat about Brian and the Beach Boys with other fans in our new Imagination Chat Room
---
Voice your opinion on various topics concerning Brian and the Beach Boys by participating in our new voting poll.
---
Looking for some hard to find Beach Boys items? Have some to sell? Want to make a trade?
Place a free ad on our new Trading Post page
---
Post a message on the Imagination Message Board
Post A Message
---
Work continues on the all new Sounds page
SOUNDS
---
NEWS
Updated 9/25/99
Beach Boys Reunion Rumors
An article in the 9/24/99 edition of the Trenton New Jersey Times features an interview with Bruce Johnston in which he says that talks have begun between Brian and the group about Brian wanting to make a new Beach Boys album and also to join them for selected dates on tour.
Read the entire article here.
Trenton Times

---
Updated 9/22/99
There is an interview with Joe Thomas in todays Chicago Sun-Times in which he discusses his side of the recent break up Wilson-Thomas Productions and the subsequent lawsuits.
---
Updated 9/21/99
According to the newest issue (Oct) of ICE magazine, " Capitol has moved the Beach Boys Best of the Brother Years single cd to next February."
Thanks to Jeff H
Beach Boys Greatest Hits Volumes 1 and 2 were released by Capitol Records today.

---
Updated 9/18/99
According to the latest issue of Endless Summer Quarterly magazine, Mike Love has recorded a version of "Hungry Heart" for inclusion on an upcoming Bruce Springsteen tribute cd, scheduled to be released sometime in 2000.

---
Updated 9/17/99
According to the BBFC, the long awaited
Beckley, Lamm ,Wilson cd ,titled Like A Brother, is scheduled to be released on Oct.15. The cd will feature Carl's last song to his sons, titled "I Wish For You".
Thanks to MDH

---
Updated 9/16/99
Brian will be performing an accoustic set of approximately 8 songs at the Neil Young Bridge School Benefit on Oct 30,31.
Tentative 'Bridge' set:
California Girls, Kiss Me Baby, Add Some Music, God Only Knows, Lay Down Burden, Caroline No, Surfin'USA,
Love and Mercy
Courtesy of New-Surf.Com

---
Updated 9/9/99
Brian is scheduled to appear at this years Neil Young Bridge School Benefit XIII concert on October 30 and 31 in Mountain View CA.
BridgeSchool
Tickets for this show and Brian's concert in San Francisco are being sold through BassTickets
BassTickets
===================================

Tickets go on sale this Friday 9/10/99 for Brians October 17 & 18 concerts at the Aladdin Thearter in Portland, Oregon and tickets for the October 15 concert in Seattle WA at the Moore Theater go on sale on the internet on Saturday 9/11/99 at 10am through
Ticketmaster
Thanks to Matthew Moore for the Portland info

---
Updated 9/3/99
From Billboard Online
Thomas Fires Legal Salvo At Brian Wilson's Wife
Joe Thomas, co-producer of Brian Wilson's 1998 album "Imagination," has filed a countersuit against Melinda Wilson, the musician's wife and conservator. The action,
filed Aug. 27 in Cook County (Ill.) Circuit Court, answers an Aug. 23 suit filed in L.A. by Melinda on Brian's behalf, which seeks to dissolve a 1997 joint venture between Brian Wilson and Thomas.
Thomas' suit -- which seeks unspecified general damages and
$5 million in punitive damages -- claims that Melinda Wilson
"schemed against and manipulated both Brian and Joe, and has misused [the joint venture] in order to secure the full benefit of Brian's star-status for herself." The complaint also alleges that she demanded Thomas take fewer writing credits and a smaller share of the publishing.
According to the suit, she canceled a tour in support of the
Giant Records album, and sought to "break Brian's ties with
Giant." When Thomas asked why she canceled the tour, she
allegedly replied, "I'm going to f--- that little Jew," referring to Giant founder Irving Azoff.
Melinda Wilson also purportedly sabotaged the production of a second album, for which Thomas had been offered substantial advances, by scheduling Japanese concert dates and secretly organizing a fall 1999 tour. In addition, she allegedly made defamatory comments about Thomas to tour personnel.
A Wilson spokeswoman had no comment.
Thanks to Rick Mannor
=================
Beach Boys Family and Friends to appear at Air Jamaica Vacations 'NASCAR Beach Bash'
DENVER, N.C. (Sept. 2, 1999)
Air Jamaica Vacations, sponsor of AllCar Motorsports' No. 22 Chevrolet in the NASCAR Busch Series Grand National Division, has announced the details of its inaugural "Air Jamaica Vacations Race Fans Beach Bash," to take place in Negril, Jamaica, Dec. 4-11.
The event will be a race-themed celebration featuring NASCAR drivers, crew chiefs, crewmembers and fans.
For one price, race fans are invited to enjoy a week of racing and fun on the beaches of Negril with NASCAR Busch Series drivers Dale Earnhardt Jr., Mike McLaughlin, Hank Parker Jr., Randy LaJoie and Andy Santerre;
NASCAR Winston Cup Series driver Steve Park; and NASCAR Winston Cup Series crew chiefs Robin Pemberton, Tommy Baldwin Jr. and Ryan Pemberton. More of the NASCAR "family" is expected to jump on board as the vacation date approaches.
Scheduled activities include water sport competitions, concerts, live question and answer forums and nightly beach parties. Tuesday night, Dec. 7, rising country star Chad Brock will take over the beach with his No. 1
hit "Ordinary Life." Thursday night, Dec. 9, the "Beach Boys Family and Friends" will perform live on the
Caribbean shores.
Happy Birthday to Alan Jardine

---
Updated 9/2/99
There's a new interview with Brian in All Music Online Magazine
Brian Wilson Interview
=========================
On October 7-9th at the Sheraton Tamarron Resort in Durango, Colorado, the Durango Songwriter's Expo will be held. Scheduled performances by the legendary Brian Wilson, Rickie Lee Jones and Darden Smith. Registration is $135.00. Attendance is limited to 100 people. Call Jim Attebery at 970-382-9966 or Bruce Mandel at 970-884-037
---
Updated 8/27/99
According to an article in today's SF Gate- San Francisco Chronicle/Examiner ,tickets for the Brian Wilson show in San Francisco at the Warfield on October 20 will go on sale Sunday 8/29/99 at 10AM. No location given, but I assume it is at the theater box office. This concert as of now is not listed with Ticketmaster.
Tickets are available by calling (510) 762-2277 or
(408) 998-2277.
Article

---
Updated 8/26/99
Carnie Wilson Update
Singer and TV talk show host Carnie Wilson is reportedly improving following a
procedure she underwent earlier this month to treat her obesity. The entertainer
reportedly has lost 20 pounds since undergoing a gastric bypass procedure.
Wilson, 31, member of the famous pop group Wilson Phillips, and daughter of
famed Beach Boy Brian Wilson, underwent what is known as gastric bypass
surgery earlier this month. It was a last-ditch effort to control her excessive
weight.
Since her release from Alvarado Hospital in San Diego on August 13, Carnie has
been steadily improving, according to a hospital spokeswoman.
"She's doing great," said Amy Johnston, director of the Surgical Weight
Reduction Program at Alvarado. "She called in yesterday. She had a couple of
questions, and I chatted with her, and she reports that she's doing great, is happy,
has lost weight already.
Complete article can be read here

---
Updated 8/25/99
Here is a 30 second RA clip of Al and Matt Jardine's contribution to the "New Friends in Low Places" Garth Brooks tribute cd, called Papa Loved Mama.
Al and Matt Jardine - Papa Loved Mama
---
Updated 8/24/99
From Billboard Online
Daily Music Update
Edited by Julie Taraska / August 24, 1999, 11:00 a.m. EDT

Brian Wilson Sues Business Partner
Beach Boys founder Brian Wilson has filed a suit to dissolve a 1997 joint venture with Joe Thomas, who co-produced Wilson's last album, the 1998 Giant release "Imagination."
The suit, filed yesterday by Wilson's wife and conservator Melinda in California Superior Court in L.A., alleges that Thomas "has used his association with Wilson to further his own interests and/or raise his profile in the entertainment industry and has, at every turn, attempted to inject himself into Wilson's professional life and career and reap profits not commensurate with [his] contributions."
The action alleges that Thomas sought to insert himself into a second album project with Wilson and tried to reap half the profits from Wilson's 1999 concert tour. The suit also seeks a declaration that Wilson is free to record his next album and engage in other music business activities without Thomas' participation, and compensatory and punitive damages to be determined.
Thomas could not be reached for comment.
Thanks to MDH

---
Updated 8/23/99
Here are some new Brian Wilson Tour dates courtesy of New-Surf.com
October 15 - Seattle Wa.- Moore Theater
October 17-18 -Portland Or. - Aladdin Theater
October 20 -San Francisco Ca- Warfield Theater
October 21 - Las Vegas Nv. - The Joint (Hard Rock Hotel)
October 23 - Los Angeles Ca. -The Wiltern (additional date is possible)
October 24 - Anaheim Ca. - Sun Theater
Other cities may include Santa Barbara and San Diego plus a possible European Tour in the year 2000
Order Brian Wilson Concert Tickets Here
==================================
As everyone knows, there is a Garth Brooks Tribute cd scheduled for release on Tuesday August 24 called New Friends In Low Places. It has been reported that Mike, Bruce, David and Glen Campbell had contributed a song called Two Pina Coladas. However Amazon.com and Cdworld.com both have a track listing, but Two Pina Coladas is nowhere to be found. What is even more interesting is that a track called Papa Loved Mama is listed and the performers are Al and Matt Jardine!
This is the first I have heard of the Jardines track and it will be interesting to see which Beach Boys related track makes the final cut.
---
Updated 8/22/99
There is an item in today's San Francisco Chronicle that mentions that Brian Wilson will be performing at the Warfield Theater in San Francisco CA on October 20.
---
Updated 8/21/99
Alan Jardine's Beach Boys Family and Friends will be ringing in the new millenium on December 31 at the New Huntington Townhouse in Huntington Station, Long Island, New York. For information call 516 427-8485 or click here
Thanks to Tom Pantaleo

---
Updated 8/19/99
From author Edward Wincentsen:
The 2nd edition of the book 'Denny Remembered, Dennis Wilson In Words and Pictures' will be available beginning August 24th at www.wynnco.com Later it will be available through all the major Bookstore chains and their Web sites. For all those who missed the book the first time around, here is your chance to get a copy.
=============================
Little Deuce Coupe by Brian Setzer with Brian Wilson from MOM 3 can be bought in MP3 form for 99 cents at EMUSIC
=============================
Dates for the upcoming west coast leg of Brian Wilson's concert tour are expected to be announced soon.
---
Updated 8/8/99
VH1 is rebroadcasting "Endless Harmony" on Tuesday, August 10th at 12
noon.
Thanks to Jacki Lazzaro
---
Updated 8/7/99
A new recording by "members" of the Beach Boys, Mike, Bruce and David, along with Glen Campbell called "Two Pina Coladas" is scheduled to be released on August 24th as part of an upcoming tribute cd toGarth Brookscalled "New Friends In Low Places".

---
Updated 8/5/99
Capitol Records has just opened a new Beach Boys site mostly to promote the new Pet Sounds in stereo cd.
---
Updated 7/26/99
Here's a "review"(?) of The Beach Boys (Love/Johnston version) concert from July 23, from the Pittsburgh Post-Gazette.
Music Review: Beach Boys songs outlive their creators
Monday, July 26, 1999
By Ed Masley, Post-Gazette Pop Music Critic
As Beach Boys tributes go, a band would be hard-pressed to top the entertainment value of the show Mike Love and friends performed Friday night for the folks at the I.C. Light Amphitheatre, Station Square.
The set was a crowd-pleasing mix of the obvious hits and a treasure or two
that didn't make it onto "Endless Summer" or "Best of the Beach Boys" ("Hawaii" and "Do It Again").
You had your car songs, surf songs, "Good Vibrations," "California Girls."
And yet, I'd hesitate to call the band I saw Friday night the Beach Boys.
Not without a single Wilson to its name.
I know you can't bring Carl back (he died a year ago), and Brian will probably never tour with Love again. But now that even Al Jardine has left the party, why not pack it in?
The answer couldn't be more obvious: money. You have to give him credit, though. He earns it.
The ringers can sing. And the songs have aged as well as any in the history of
American popular music -- even "Kokomo," which sounds as lame today as the day it topped the charts in 1988.
The only thing sadder than "Kokomo" being the Beach Boys' biggest hit (as
Love, who incidentally had a hand in the writing, reminded us yet again last
night) is the fact that Love would have the nerve to joke about his troubled
cousin, Brian Wilson, who suffered a nervous breakdown and had to retire from touring in 1964.
Apparently, now that Carl's dead, all bets are off, as far as Love's concerned.
By way of introducing longtime keyboard-playing vocalist Bruce Johnston,
Love informed the crowd that Johnston joined the band in 1965, the year he
"took the place of my genius cousin, Brian Wilson." Brian was two kinds of
genius, he joked -- a musical genius and practical genius, staying home since
1965 while raking in the money from the records Love is out there pushing every summer.
Never mind that without Brian's genius, Love would still be back in Hawthorne, Calif., doing whatever Republicans do for a living.
Thanks to Brian, he's got himself a set of classic tunes he's free to milk from
here to eternity. Friday night, the classic Beach Boy tunes performed included
"Catch A Wave," "Don't Worry Baby," "Surfer Girl," "I Get Around," "In My
Room," "Help Me, Rhonda," "Wouldn't It Be Nice," "God Only Knows" and "Wendy," in addition to a handful of well-chosen covers.

---
Updated 7/23/99
It's true, Brian Wilson is no longer under contract with Giant Records. According to spokesperson Jean Sievers, Brian is currently exploring other options for his music, including a possible live CDfrom his current tour. Coming off his highly successfull tour of Japan, Brian is "totally pumped up" and anxious to get back on the road.
The Brian Wilson EP, that was scheduled to be released in Japan to coincide with his tour there wascancelledby Warner/Japan. No official reason has been given.
Thanks to Yoshi

---
Updated 7/20/99
The latest issue of Biography Magazine features an article on Brian Wilson.
Once again, just as in the last Rolling Stone issue that included a story on
Brian, Nicole Kidman graces the cover.
Thanks to Marie L.

---
Updated 7/12/99
Reports from Japan about Brian's recent concert in Osaka have been positive. The set list is identical the one performed on the East Coast leg of his US tour
A new version of the Pet Sounds cd is expected in stores tomorrow. It will contain the full album in both mono and stereo, plus a bonus track.
---
Updated 7/3/99
Cable channel MSNBCwill feature theBeach Boys on the "Time and Again" show on Sunday, July 4 , at 3:00PM Eastern Time.
---
A & E , at their Biography site, is offering the Brian Wilson
Biography video for $14.95. They also are offering
a package deal with the video and the Pet Sounds box set for $44.95.
Though the video alone is being sold to US and Canadian residents, the package deal is for the US only. You can order either from their website or by phone at 1-800-344-6336
---
The Beach Boys will be performing as part of the "Summer Concert Series" on theToday show on Friday, July 16.
---
Newsweek Magazine is conducting a poll for the "Best Singer Of All Time". Brian Wilson is listed and you can vote for him here!
NEWSWEEK POLL
Thanks to John P
---
Brian's Tour itinerary.
JULY 9 OSAKA JAPANKosei nenkin hall
JULY 12 , 13, 14 TOKYO JAPANInternational Forum A
---
For members of the Brian Wilson Fan Club,the new management of the club, Celebrity Merchandise,has released the following announcement :
Hello Brian Wilson Fans,
We would like to let you know that Mail Mann will now be managing Brian Wilson's Breakaway Fan Club. If you are already a subscriber, your subscriptions to the newsletters will be honored. If possible, would you please return via e-mailyour current status so we can double-check the files we've inherited. This will greatly help us during the transition process to keep things running smoothly.
The Fan Club will be offering a Fan Club Kit, bio's, photos and surprises throughout the year. If you are interested in joining the Brian Wilson's Breakaway Fan Club, please return e-mail your complete name and "snail-mail" address with Brian Wilson on the subject line and we'll send you all the information you'll need to join.
You can also "snail-mail" us at: Brian Wilson Fan Club, 15030 Ventura
Blvd, #710, Sherman Oaks, CA, 91403.
We would like to thank you for your comments, interest and continued support.
MAIL MANN
Celebrity Merchandise
http://www.celebritymerch.com
celbmrch@ni.net

---
SITE ARCHIVES
April,May,June 1999
Jan,Feb,March 1999
Oct,Nov,Dec 1998

Play these great albums for your non believer friends, buy them as gifts for family and friends.

CD'S IN CURRENT RELEASE
BEACH BOYS - GREATEST HITS VOLUME 1 CAPITOL RECORDS 724352186020
BEACH BOY - GREATEST HITS VOLUME 2 CAPITOL RECORDS 724352023820
BRIAN WILSON - IMAGINATION GIANT RECORDS 9 24703-2
BRUCE JOHNSTON/MIKE LOVE AND THE ROYAL PHILHARMONIC ORCH. - SYMPHONIC SOUNDS INTERSOUND 9343
BEACH BOYS- ENDLESS HARMONY CAPITOL RECORDS 72434-96391-2-6
BEACH BOYS- ULTIMATE CHRISTMAS CAPITOL RECORDS 72434 95734-2-0
HOME VIDEO
*BRIAN WILSON : A Beach Boys Tale -A&E Biography AAE-17459 VHS
*Available at the Biography website or by calling 1-800-344-6336
BEACH BOYS : The Lost Concert Image Entertainment -ID5646SB VHS/DVD
BRIAN WILSON : Imagination Warner Video -38508-3 VHS
**BEACH BOYS : Nashville Sounds/The Making of Stars and Stripes
Image Entertainment - ID4514ERDVD DVD
**NOTE: According to the Image Entertainment Website, this is the version that contains In My Room with Tammy Wynette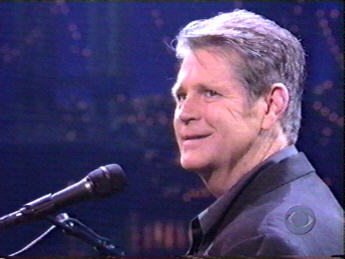 ========================
Brian appeared in a live chat with fans on AOL in July
Read the transcript here!


BRIAN ON THE DAVID LETTERMAN SHOW PICTURES
Courtesy of www.christophercross.com

Subscribe to the mailing list for
Brian Wilson and the Beach Boys: Imagination
Click here to join
VOTE ON THE INTERNET
There are several charts on the internet where you can vote for favorite music. These charts are compiled to see which songs are people's favorites from all over the world. Vote on these charts every week as they help raise visibility and bring attention to the single and the album and can help generate airplay. All of these charts are open to voters all over the world.
LINKS
Other Fine Brian Wilson/Beach Boys Sites


Visit California Saga for Beach Boys Family and Friends News
------------------------------------------------
IMAGINATION has been rated as one of the top Brian Wilson sites by



BEACH BOYS BRIAN WILSON

Brian Wilson Ring site owned by Fans Of Brian Wilson.
[ Previous 5 Sites | Skip Previous | Previous | Next | Skip Next | Next 5 Sites | Random Site | List Sites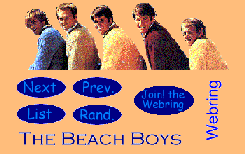 Mt.Vernon & Fairway
Brian Wilson and the Beach Boys
Brian Wilson: Solo Artist
PetSite