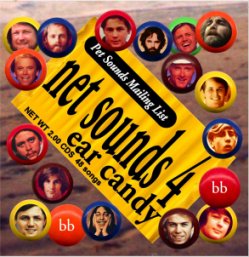 Grab an earful of Net Sounds 4.
Two cd's full of the sweetest sounds you'll ever hear. You'll laugh, you'll cry, maybe whince once or twice, but for sure you'll have a good time listening to the music of the Beach Boys as performed by fans like you and me.
One of the many highlights of NS 4 is the debut of a previously unheard Dennis Wilson compostion, "It's A New Day". It's a Net Sounds exclusive!
You can order your copy from:
Richard Globman
166 Turner Ashby Court
Martinsville, VA 24112
USA
$14 for first copy, $10 for additional copies (non-U.S. orders add $2 to
these prices). If you do not
have NSII and/or NSIII, you can purchase copies for $10 if you order NSIV.
All non-U.S. orders must be in U.S. funds.
Cash, check, money orders, all ok. Please include your e-mail
address with order your order if you want confirmation that it has been received.
The Tracks- with Performers

DISC 1
>>Let It Shine (John Hunter Phillips)
>>Wild Honey (Carter Cathcart)
>>Guess I'm Dumb (D. J. & K.)
>>The Surfer Moon (Ohara Revival)
>>Why Why Winona (Studley Morningside Tobacco Barnacle Choir)
>>Spirit of Rock and Roll (Coconut Grove)
>>The Man With All The Toys (Low Society Blues Band)
>>The Night Was So Young (Rich Brown)
>>Sloop John B (My Dad's Truck)
>>I'm Bugged At My Old Man (Bill Larson)
>>Rock'n'Roll Survivor (Rand Richard)
>>I'm In Great Shape (Dan Lega)
>>Sandy, She Needs Me (Dauber)
>>Ballad of Old Betsy (Duophonic)
>>Male Ego (Ton Def)
>>Girl Don't Tell Me (Hawthorne Hot Shots)
>>Don't Worry Baby (Ed Ball)
>>All I Wanna Do (The Depp)
>>Summer Means New Love (Bicycle Riders)
>>In The Parking Lot (Russ Smith)
>>Celebrate The Newsletter (Marty & the Lt.)
>>It's A New Day (Penick/Addington)
>>Rubber Baby Boogie Woodie (Bobby Lloyd)
>>Still Cruising (Mamboman)



DISC 2
>>Time To Be Still (The Mad Maccounihans)
>>Catch A Wave (Ed & Joe)
>>Forever (John Barone)
>>Don't Hurt My Little Sister (Hiroto Yanagida)
>>Take A Load Off Your Feet (Jack Madani)
>>Kiss Me Baby (Cody Derespina)
>>Girls On The Beach (The Jokers)
>>Cabinessence (Tinkeytone Orchestra)
>>Wrinkles (Pop Shop)
>>Please Let Me Wonder (The Radleys)
>>Do It Again (Smidgen)
>>Farewell My Friend (Synergy)
>>Salt Lake City (Ronnie Daytona)
>>A Day In The Life Of A Tree (Marc Stephens)
>>Wake The World (Francis Greene)
>>Guess I'm Dumb (Richard Harris/Nick Kelly)
>>Til I Die (Marty Rudnick)
>>With Me Tonight/Little Pad (Blake Jones)
>>I Can Hear Music (West Coast Bias)
>>Little Honda (Geoff Inkel)
>>You Are So Beautiful (R.E. Smith)
>>Here Comes The Night (Cock)
>>Til I Die (Marty Rudnick)
> Rio Grande (The Lounge Surfers)