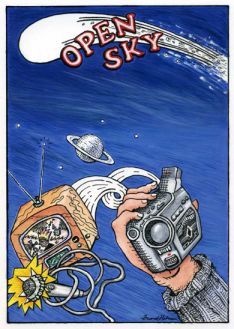 WELCOME TO OPEN SKY 8
The new edition of Open Sky is a DVD magazine
featuring interviews with Fred Vail, Stephen Kalinich,
Probyn Gregory, David Bash, Spihunt and Franklin
Castle recording artists Linus of Hollywood, Kim Fox,
Willie Wisely and David Ponak. Fred talks about his
early days with the Beach Boys, inclluding how he met
them and set up their first Sacramento concert,
leading to a position with the band. Stephen discusses
his collaboration with Dennis Wilson and reads a poem
written for Dennis accompanied by rare photos of
Dennis. Probyn details his music career including his
work with Mello Cads, Wondermints, The Negro Problem
and Brian Wilson. Steve Hunter and Tim Spivey of
Spihunt talk about their love of California pop and
how Brian Wilson influenced their harmony-based
songwriting. Three of their songs are featured. To see
and hear the current and future status of pop music,
tune into the Franklin Castle segment which features
music and discussion by Mello Cads, Linus of
Hollywood, Kim Fox, Willie Wisely, and a special
feature on the classic album "Take A Picture" by Margo
Guryan. International Pop Overthrow impresario David
Bash shares his positive outlook on where pop music is
heading, if you take the time to seek it out. Watching
the DVD gives you an intimate insight into the world
of these artists, and how Brian Wilson has influenced
nearly every one of the musicians who are taking pop
into the future. Frank Holmes latest work is featured
on the cover!
The price is $20 plus shipping and handling. Please
add $2.50 in The U.S. and $5.00 for overseas shipping.
The disc is in the NTSC format. Checks or M.O.s can be
sent to
Open Sky, 28 Wilson Road, Lambertville NJ
08530. PayPal payments can be made online using the
Seller I.D. of openskykinema@yahoo.com. Please direct
all inquiries to the above email address.